How you ask?

We take our combined 60+ years of experience in financial institutions combined with our proven CySPOT™ methodology, and team approach, to deliver cost effective virtual CISO services exclusively to community banks and credit unions.
Check out our newest free resource, The Virtual CISO Whitepaper! It contains everything a financial institution needs to know about filling this critical role.
Our Services
Our Virtual CISO (vCISO) services are a culmination of our combined 60+ years of experience in cybersecurity and our proprietary CySPOT™ methodology broken down into our base vCISO advisory service along with 9 additional modules that can be added in any combination to fit the needs of your financial institution.
Ever wonder what your information security program looks like from the eyes of an experienced CISO? This may be an opportunity for you to do just that. Our CISO Assessment is a practical overview of where your program stands and where it can improve, customized to the size and complexity of your financial institution.
For those of you looking for one-time help on specific projects on a non-recurring basis. We can help in the following areas: Risk Assessments, Vendor Assessments, Incident Response, Business Continuity, Information Security Policies, Board or User Awareness Training, & Audit remediation.
We know the journey as a CISO can be lonely. Sometimes it feels like the fate of the entire financial institution is resting solely on your shoulders. You can keep your skills sharp and attend webinars and conferences, but at the end of the day, it all falls on you, right? But what if you had a sounding board?
Stay up on the latest cybersecurity trends and happenings by subscribing to our newsletter
Kevin B.
VP, Director of Information Technology | Stock Yards Bank & Trust Co. | Kentucky
--
"I learned of Bedel Security through a peer bank in Lexington, KY. I contacted them to discuss an assessment of my Vulnerability and Patch Management initiatives. They listened carefully,
provided recommendations and scoped the engagement accordingly. I found the team to be very professional and knowledgeable and their communication was excellent. They outlined their assessment process (Tasks & Timelines) during the initial kickoff
meeting and engaged immediately."
David M.
IT Manager | Putnam-Greene Financial Corporation | Georgia
"Your direction and guidance gave us great insight into creating a fully robust information security program at our bank. Our last exam by the Federal Reserve Bank was complex and thorough but because of the preparation and education on your part we passed with flying colors. I believe being able to talk through our exam requirements and requests with you led to our success. We are grateful for your help and would recommend Bedel to anyone looking to improve their information security program."
Amanda B.
VP Audit/Compliance Union Savings and Loan Association | Indiana
--
"Bedel Security was referred to us by a fellow community bank. Their service proved invaluable and could not have come at a better time. We look forward to working with them in the future."
Christy C.
EVP/CTO | Springfield State Bank | Kentucky
--
"Bedel Security worked with my staff to get things fine-tuned so we aren't just "checking off boxes" but truly have an understanding of the "whys". Our consultant sat down with our team to get a thorough understanding of our individual network, then gave us recommendations for perfecting it. When he left, I felt that we had a seasoned, trained professional to coach us on tightening all of our standards to excellence.
It means so much that their CEO, Chris used to be a banker. He understands the specific security challenges and risks that banks face if their network policies and procedures are not top-notch. I can highly recommend Bedel Security for working with your IT staff to make it the very best it can be."
Christy S., PHR
Executive Vice President Operations | The Napoleon State Bank | Indiana
--
"I appreciate Bedel Security's passion and drive to help us stay ahead of Cyber Security issues that banks face. They recommend solutions that make sense for community banks. The Bedel Security team is experienced, dedicated, service oriented, and an asset to our bank."
Steve V.
CFO | City National Bank | Illinois
--
"Bedel Security has been a great partner to our bank with their virtual CISO services. They do an excellent job and it gives me confidence that we are doing all we can in this extremely important area. They allow me to focus on my other responsibilities at the bank."
Eric L.
President & CEO | First Federal Savings Bank of Washington | Indiana
--
"Working with Chris and the team at Bedel Security has been a great experience for us. When we first considered outsourcing our ISO duties we were a little hesitant, as we've always been an "in house" organization when it comes to this aspect of business. They have been a pleasure to work with and have taken the time to coordinate our ISO reporting needs to our Board, our vendors, and have patiently trained us along the way. I highly recommend considering this team for your virtual ISO needs!"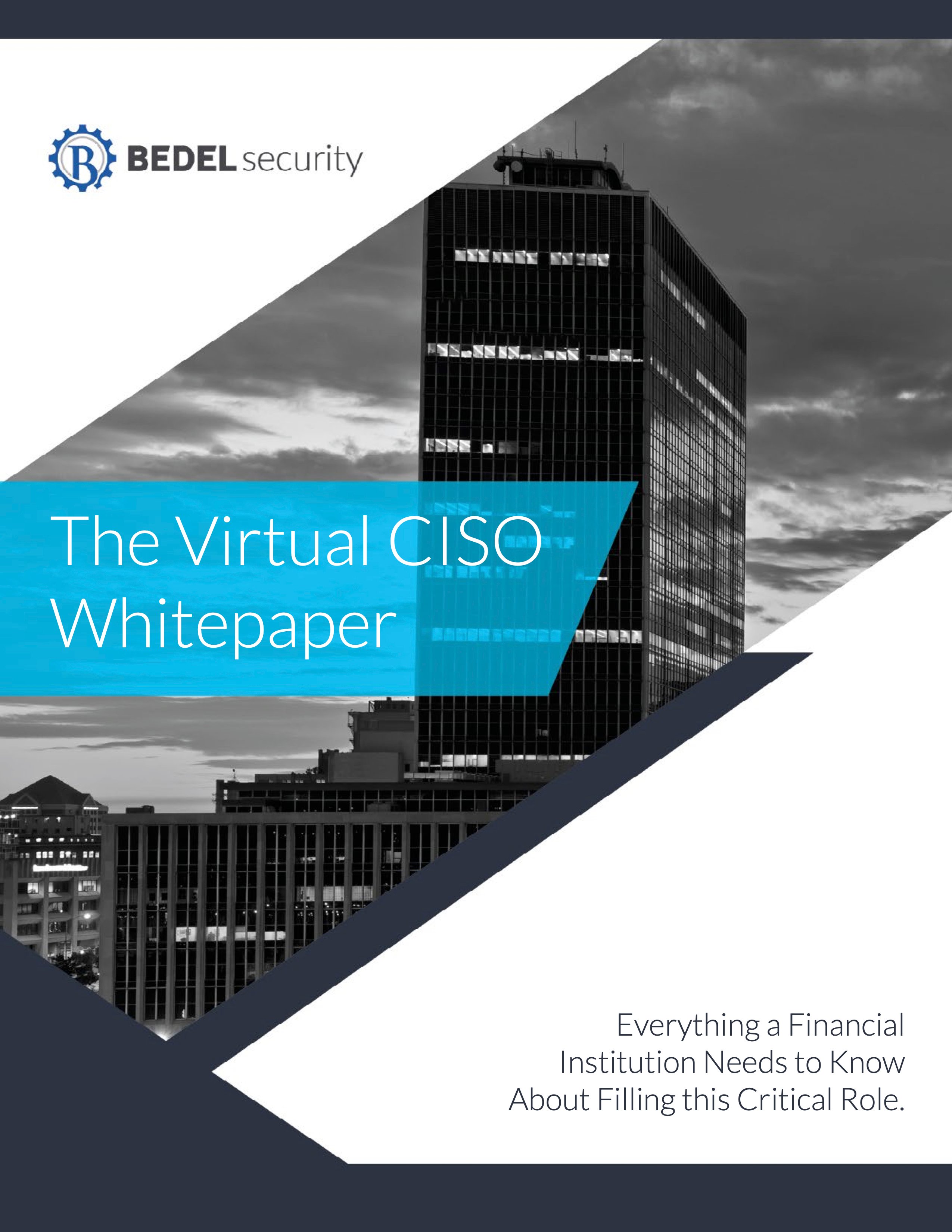 The Virtual
CISO Whitepaper
Your bank or credit union needs to have someone managing your cybersecurity program.
That person is a Chief Information Security Officer (CISO) and every financial institution is required to have one.
This whitepaper outlines the role of the CISO and helps you explore the alternatives in filling that role. Specifically, exploring the option of outsourcing CISO/ISO services via a virtual CISO.
You can find out more information about whether a vCISO is the right fit for your financial institution by reading our newest whitepaper, The Virtual CISO Whitepaper. Get your own copy here!